*NEW* Oasis Flotation Truck Seat Cushion
SKU:

PSC105

Shipping:

$9.99 (Fixed Shipping Cost)
Description
The OASIS Cushion's 3D Flotation technology lowers and distributes sitting pressure "hot spots". This improves blood circulation and prevents soreness in your buttocks, numbness in your legs and aches in your lower back. Your posture automatically improves because you do not (sub)consciously lean to one side or the other trying to avoid discomfort.
BENEFITS:
Unlike foam or gel that most truck seats are made out of, the Oasis cushion will never pack down or flatten out.
Microadjustments made while sitting on the Oasis cushion help strengthen a driver's core and improve posture
Improved posture increases awareness and reduces fatigue with increased blood flow
Increases the functional life of your current stock or older seat without the costly investment in a new seat
Breathable and waterproof cover that is easy to clean
Bring your Oasis cushion with you in Team driving situations, easily portable and light weight.
Fits most car and truck seats. 16 x 18 x 1.5 inches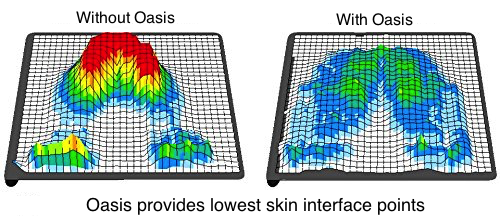 View All
Close
Warranty Information
PRS Medical Technologies warrants that for a period of 12 months from the date shipment, the Product will be materially free of defects in materials or workmanship. This warranty does not apply to anything that would not be considered a defect in material or workmanship including, but not limited to a Product that (i) has been misused, (ii) has had the serial number altered, defaced, or removed, (iii) has been damaged by an accident, or (iv) has been damaged from "an act of Nature", e.g., flood, tornado, earthquake, fire. Any modifications to the Product or any damage resulting from unauthorized use or negligence on the part of the End User shall void this warranty.
View All
Close